Introduced at the Consumer Electronics Show, C-1 is an amazing motorcycle concept designed by the California startup Lit Motors. Under this code name is hidden, according to its inventors, the urban vehicle of the future.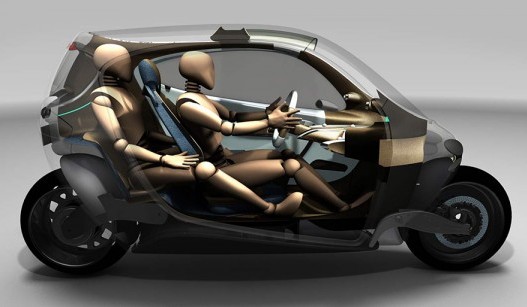 The C-1 is a two-wheeler that combines the advantages of a motorcycle for pleasure, convenience for parking and agility in traffic queues or lifts, and the benefits of a car for comfort and safety of both passengers are protected by a sort of capsule.
With this bike, no need to set foot on the ground … Like the famous Segway, the two-wheeler is equipped with a patented system of automatic stabilization by gyroscopic balance. According Lit Motors C-1 remains on these wheels without "never" fall to the ground, even in a collision with another vehicle.
The C-1 is a 100% electric motorcycle that has a range of 320 kilometers. The 360 kg engine is capable of reaching a top speed of 160 km/h and slaughters 100 km/h in less than 6 seconds. To fully recharge the C-1, it takes four hours on a 220V outlet and less than half an hour on a special terminal for fast charging.
To finalize the design and launch C-1, Lit Motors has already opened pre-orders on their official website. The total price of the bike is expected to approach 24,000 USD.