Corsair Bulldog is a chassis format console under the mini-ITX standard specifically designed to create PCs for games in the living room of the home. It is including the motherboard, power supply and cooling system. Like a Barebone, the user will have to put the other components.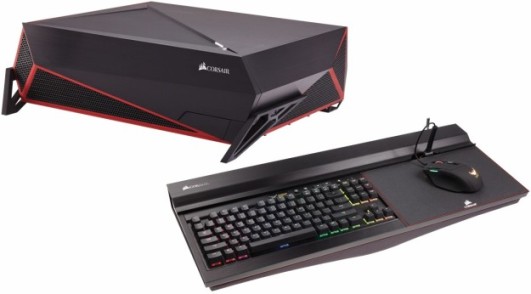 The motherboard is a mini-ITX with Intel Z170 chipset to host the sixth generation of core processor, Skylake-S. You can install up to 32 GB DDR4 memory with frequently to 2400 MHz + and provides an additional PCI Express 3.0 16x slot for dedicated graphics.
Includes a power supply ultra-efficient 600-watt SFX and its strong point is the cooling system that includes an integrated in Hydro Series H5SF plate which gives liquid cooling for CPU and GPU.
Corsair Bulldog is not cheap because it cost $399 when it becomes available later this year. To assess its compact design and good finishes in steel and polycarbonate, the source of high efficiency and silent system and prepared to extract all the cooling machine performance.
Perfect for creating a Steam Machine or PC gaming consoles design that integrate seamlessly into the living room of the home.