DJI is one of the manufacturers of drones more acquaintances between the fans advanced of the air recordings. They have pioneered quality video recording and vibration from the heights with their quadricopter. Now they presented DJI Osmo, a camcorder that applies all its technical knowledge, but to save with its feet on the ground and without allowing it to slip on single vibration.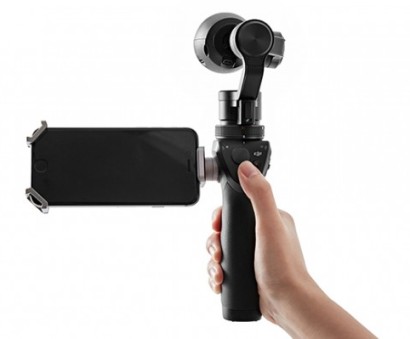 Osmo is a 4K camera with 12 megapixels and a 1/2.3″ sensor, with a visual field of 94° fully integrated in a hand stand self-stabilizing which opens up new creative possibilities for recording in motion. It is as if a steadicam but much more compact and versatile.
The key difference between Osmo and competition is the 3 axis gimbal stabilizer support which incorporates intelligent controls movement and balance allow adjusting its angle smoothly and fluidly. Through its elaborate system of mechanized joints eliminates the typical vibrations of cameras which are fastened with the hands (and even the movement of the steps) allowing up similar to a "traveling" sequences.
The DJI Osmo is a compatible modular platform with Zenmuse DJI series camera and allows you to adjust various camera settings as well as control the following smart features:
Panorama – Take a picture and the camera will automatically rotate 360°, making a panoramic photo
Long Exposure – Takes sharp photos with long exposure, using stabilization technology
Slow Motion – Record in slow motion at 120 frames per second (fps) to 1080p.
The gimbal bracket has a universal adapter for holding a smartphone that can function as visor framing (connected wirelessly) and also offers additional accessories such as a tripod, bike mount and an extendable arm. As quality detail we find that the gimbal Osmo integrated stereo microphone with a 3.5mm jack for professional quality audio recording.
The Osmo DJI price is €749 and you can pre-book although shipments will start on October 15.