Intel announced launch of the Pocket PC Intel Compute Stick, in versions with Windows and Linux (Ubuntu). In a little more than a flash drive format, an HDMI port to connect a TV or monitor screen as to make it a functional computer. Among its connectivity you'll find Wi-Fi and Bluetooth, microSD memory card reader, USB and HDMI mentioned.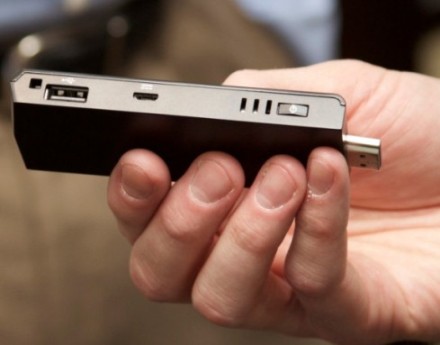 It is sold in two versions. The first With Windows 8.1 with Bing installed, mounted processor Intel Atom Bay Trail (Z3735F quad-core up to 1.83 GHz), Intel integrated graphics, with 2 Gbytes of RAM and 32 GB of storage. Its retail price is $139 at retailers.
The Linux version uses Ubuntu 14.04 LTS and mounts the same processor but with 1 GB of RAM and 8 GB of storage. To change its price is cheaper. It is about $109.
An interesting device for professional users who requiring a basic computer that can be carried in a pocket and connected to any display with an HDMI input.