Microsoft inserts a very intrusive advertisement in File Explorer to announce its payment plans with Office 365
If you thought that Microsoft had stopped advertising in Windows 10, you were wrong. It has been discovered in some users as Windows 10 starts to insert large advertising spaces in the browser, specifically announcing the OneDrive payment plan.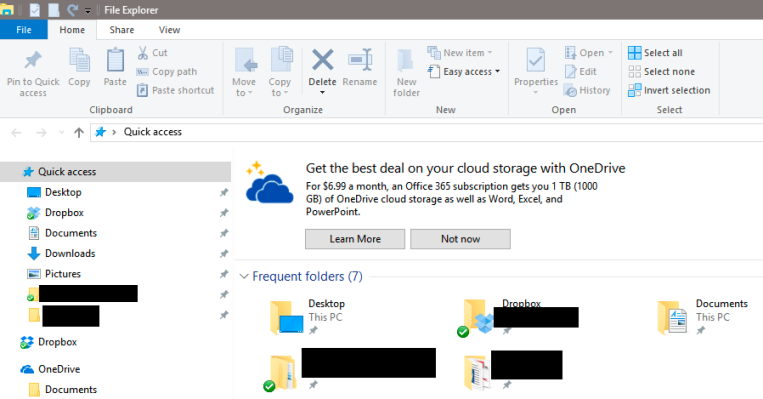 OneDrive, which recently removed capacities greater than 1TB from all users and reduced the free capacity from 15GB to 5GB, is trying to get more people to pay for the premium service. OneDrive, which is integrated into Windows 10, starts showing a great announcement trying to get you into the subscription format, directly from Windows Explorer.
The OneDrive advertising message shows, in its North American version, that for $6.99 a month, you can have Office 385, 1TB of space in OneDrive as well as Word, Excel and PowerPoint.
This is not the first time Microsoft does something like this. Windows 10 comes from the factory with plenty of features that are considered advertising. For example applications "selected" from the apps store, promoted wallpapers or "tips" like this that try to get you with Microsoft products.
To remove these warnings from OneDrive follow these steps.




Open Windows Explorer and click on View> Options
Go to Folder Options> View> Advanced Settings
Disable the option "Show sync provider notifications"
Click on the Apply button.
Microsoft is not the only one who tries to put advertising in some way in an operating system. Ubuntu is one of the most used Linux distributions in the world and till not long ago came by default with many commercial offers from Amazon. Even Apple tries to use your Safari browser on macOS when you install a new one, with a popup message.