There's nothing quite like growing your business online. In addition to connecting with people all over the world, building your company in the Internet domain empowers you to provide your audience with instant updates and information regarding your organization. Being able to offer your target market these constant updates makes your brand more accessible, organic, and entertaining. Ultimately, building your business in the online domain helps optimize your conversion rates, increase your sphere of online authority, and accelerate your ability to connect with potential business partners. There are several strategies that you can use to get the online brand-building process underway. Some of them include: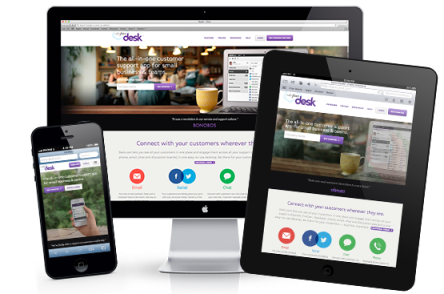 Find The Right Domain Name
One of the best things you can do to optimize your online presence is finding the right domain name. This step is important because selecting a simple, catchy domain name can increase your site traffic and improve the brand recognition process. There are several services that you can utilize to obtain the perfect premium domain names. For example, companies like Network Solutions can assist you with this process.
Utilize Responsive Web Design Techniques
These days, everyone isn't accessing the Internet in the same way. Some people are using PCs, others are using laptops, and still more are going online via mobile devices. Irrespective of the machine a prospective customer utilizes to shop on your website, they need to be able to access your product pages quickly and correctly. You can put this process in motion by utilizing effective responsive web design techniques. These techniques ensure cross compatibility across all platforms, thereby empowering you to effectively interface with prospective clients and market your products to them no matter what electronic machine they're utilizing.
Blog
Blogging is a wonderful way to build your business in the online domain. In addition to helping you interface with your clients in a personal manner, blogging is a wonderful way to provide people with regular updates about your brand. One of the best blogging strategies you can employ is a Q & A style blog post. This modality optimizes engagement by enabling your audience to ask questions and receive answers directly from you.
Build Brand Ambassadors
Another technique you can employ to build your company in the digital sphere is building brand ambassadors. This process is all about influencing your customers to share your brand with other individuals in their social networks. There are many ways you can make this happen in the online domain. One of them is by including Share Buttons in the top right hand corner of the pages featuring your content. This can subtly motivate your readers to forward or "share" your content with the individuals they interface with via Facebook, Twitter, and Pinterest.
Conclusion
If you want your brand to surpass all competitors and earn substantive conversion rates, online marketing is always a great way to start realizing your goal. To get the online growth process going right now, utilize some or all of the digital strategies provided for you above.