File recovery can be a very frustrating thing to do. Data processing and data storage today is very depending on computer technology. Lots of data are stored on computer hard drive and unfortunately, data storage in hard drive is quite vulnerable for many different problems.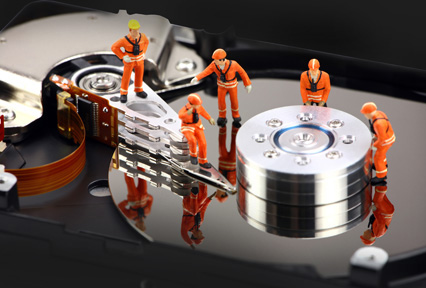 The files on the hard drive can be suddenly unreadable or simply lost due to software problems and not to mention hard drive is also vulnerable for physical damage. Getting the files back can be really irritating process not to mention worse problems you can be to lose those files. Before we learn more about file recovery from damaged hard drive, it is better we learn more about the hard drive it selves.
What We Need to Know about SATA Hard Drive
Hard drive is the important part of the computer system. It is the device where files and software are stored and run. These days, most computers are having sata hard drive. Abbreviated from Serial Advanced Technology Attachment, the name comes from its single link cable configuration.
This configuration offers better performance at higher transfer rate. SATA hard drive also offers cost effective and energy efficient solution compared to the older Parallel-ATA hard drive. It is true there's newer and more advanced type of hard drive on the market today but, mostly for cost reason, it still far to beat the popularity of SATA hard drive.
SATA hard drive has been widely dependable for data storage for many years today. But we all know that there are many issues can be related with this type of hard drive especially when it comes data storage. Most of us have been experiencing losing files for various reasons and we all know that it is a very irritating experiences. Various factors contributing to lost files are including:
Accidental file deletion: Well, we all made mistakes, didn't we?
Virus Attack: Viruses and malwares can corrupt the files or delete them. It can also corrupt the software to make the hard drive unreadable.
Logical damage: Partition loss, partition damage, corrupted segments, and other logical related problems can make the hard drive unreadable causing us losing files.
Physical damage: Unexpected shutdown, electric shock, water flooding, or damaged hard drive can make us losing the files.
Hard drive backup is highly recommended to make sure you keep the files, systems, and configuration in case things gone south. But let's face it, not many of us has the discipline of routine back up of our computer. Moreover, it is a little bit hassle to handle that process.
Recovering Lost Files from SATA Hard Drive
Losing files on your hard drive, especially important files, can be really irritating. It even feels like the sky goes down on you. Recovering those files will be the biggest goal and we all know there are many software design to recover deleted files from hard drive. What you need is the one offering reliable performance, dependable result, and also easy operation that you won't be caught on irritating problem. There's one answer for your problem and that answer is EaseUS Data Recovery Wizard. This is the onlne data recovery tool offering one stop solution for file recovery. No matter what kind of file you lost for any reason, this recovery software can help save your day. This data recovery tool isn't only offering reliable performance and dependable recovery result but also intuitive user interface to make anyone easily use this software even inexperienced user. It only takes three easy steps to recover files using EaseUS Data Recovery Wizard:
Launch EaseUS recovery Wizard and simply select the types of file to recover then click the "Next" button.
Select the disk where the deleted files previously stored and click "Scan" button to let the software automatically scan all targeted files. You can choose "Lost Disk Drive" and scan, in case you are losing disk partition.
Once the scan is completed, list of recoverable files will be shown and you can select any file you want and simply click "Recover" button to bring the file back.