Let's face it. Even in households that are doing their best to recycle and reuse, there is a lot of trash being generated. You put the recyclable items in the blue bin and forget about them, right? You pay for that trash collection each week. Items that can be recycled often have significant monetary value. Stop giving money away. Here are five ways you can make money from your garbage.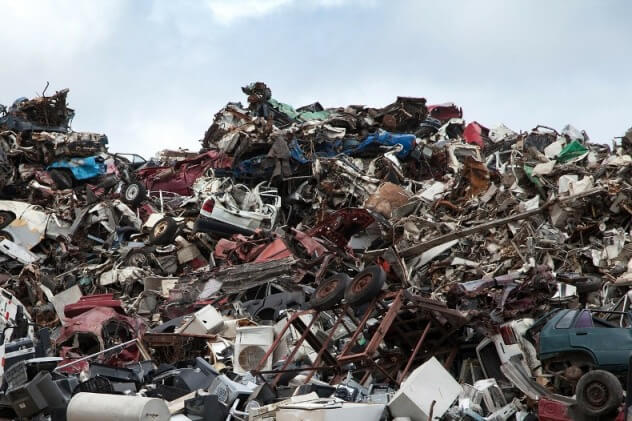 1. Cardboard Boxes
We see you, Amazon. We all buy a lot of things online. There is a lot of shipping going on these days. A good amount of shipping is free with a certain dollar amount of purchases.
All of those lovely cardboard boxes you receive each week from your online purchases have their own value outside of the contents they hold.
Consider keeping those boxes for a while. A neighbor may be moving and would happily give you some cash for those awesome boxes. There are also box recycling sites that will pay you for those boxes.
2. Old Phones
Are you upgrading your phone? Or do you have a few phones laying around that your phone company didn't take back in trade? When you take your old phone to an ecoATM, you are given immediate cash for your used phone. These businesses recycle used electronics and pay you cash or offer store credits on the spot.
Your local mall likely has a kiosk from an ecoATM company. Take your used electronics there for evaluation before throwing them in the trash.
3. Ink Cartridges
While most people know that home printer ink cartridges can be recycled, how many actually use them for extra cash? Yes, your ink cartridge runs out. You may find the best place ever to buy an inexpensive replacement.
Don't forget the old cartridge. If you don't trade that cartridge in for credit on your new purchase, there are plenty of places that will pay you for your used cartridge.
4. Auto Batteries
The next time your car needs a new battery, don't toss the old one into the trash. Also, don't give the used battery away for free.
Often, when a battery dies, a technician is called out, the old battery is taken away and a new battery is put in. That old battery has value. Ask for a credit toward the new battery. Or keep the old battery and sell it back to any number of businesses that buy and sell batteries.
5. Old Appliances
If you have lived in your home for over ten years or rent a place that is over ten years old, you likely have some inefficient appliances in your home.
There are many programs offered by utility companies to buy back inefficient appliances. Seriously, they will pay you to get rid of your old stuff. Then you have the cash to buy efficient appliances. The new appliances use far less energy. So, once the new stove, refrigerator, washer or dryer is in place, you will see your monthly power bill go down.
In today's world, people are looking all around to make a difference and effect change. There are many ways you can begin change in your own household and make money at the same time. Common household items often hold value even when you are looking to discard them. If you are looking for some quick cash, take a close look at the things you throw away or want to put in the trash. With a little bit of effort, you may find that your garbage pays you as much as that side hustle you were thinking about taking.