The Ceatec Exhibition in 2014 has closed its doors in Tokyo. This great event of electronics and computing is a new opportunity for brands to demonstrate their expertise and their latest innovations. Toshiba has shown for his part in a potential competitor to Google Glass.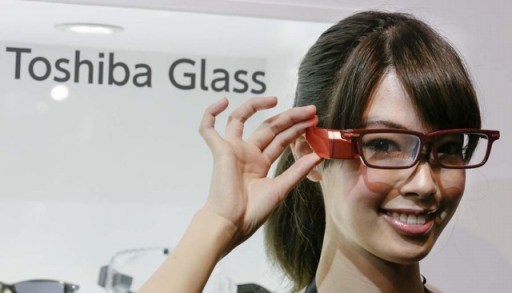 The wearable devices always motivate innovation. Toshiba launches in any case in the race with a prototype of glasses connected weighing just 42 grams. Very close to the flagship product of Google, the basic concept of Toshiba based on the integration of a mini projector capable of delivering an image on the polarized lens glasses. This ensures reflecting the right side of the effect.
Just like Google Glass, the technology presented by Toshiba offers a hands-free display easily accessible for the dissemination of information available on the smartphone which the glasses are attached. Toshiba Glass, however, must be physically connected to smartphone that allows them to operate, especially to take advantage of its battery.
This technical constraint would nevertheless Toshiba to market a low cost concept deal with Google Glass. The actual launch of the product on the market has so far not been confirmed by the brand.
An anthology of connected glasses
In addition to the Google glass which is currently the most successful model of connected glasses, other manufacturers are now launching a market which seems bearer. The Business Insider Intelligence analysts and provide 21 million pairs of Google Glass will be sold annually by 2018. Toshiba is therefore positioned with its new concept, after Sony at IFA (with SmartEyeGlass) or with Epson Moverio BT-200 presented in May.