Acer has unveiled at the IFA 2014 two new convertible laptops, can transform into a laptop, or tablet, thanks to a hinge that Acer appoints Ezel Aero Hinge.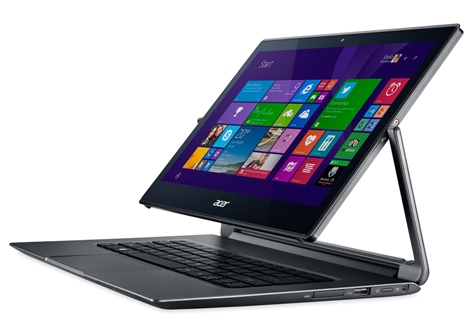 The first is the Acer Aspire R13, which is a 13.3-inch laptop with a hinge that allows you to rotate the screen, so to position the screen in different ways. Indeed, for example we can bend the display to oppose the keyboard, and we can use it in tablet mode. Aspire R13 will be available in October for 899 dollars and more depending on the model.
The Aspire R14 has in turn a 14-inch screen and a 360-degree hinge, similar to the Lenovo Yoga, allows to switch from laptop to tablet mode and vice versa. The Aspire R14 meanwhile launched in October with a starting price of 599 dollars.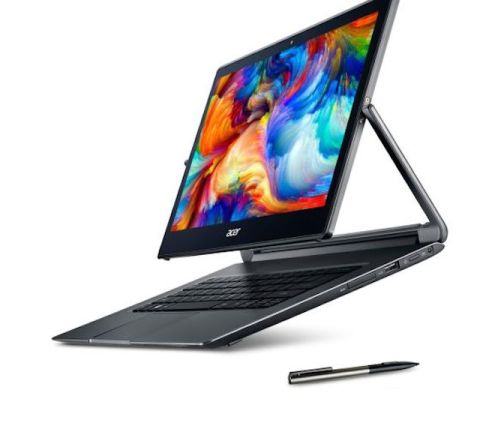 Acer says that the hinge "Ezel Aero" for Aspire R13 lets us choose between 6 different positions. Thus, this device is a 6-in-1. We will have the opportunity to turn it into a laptop, tablet, in support mode and tent mode. There is also a sleep mode and a bridge that allows us to float on the keyboard screen, allowing touch to be always at hand, display and save valuable time. Just simply pull the screen up to release it from the slot and place it above the keyboard.
The Aspire R13 will be available with an IPS screen with a resolution of 1920 x 1080 pixels or 2560 x 1440 pixels choice, and the laptop will have a digital pen option to write or draw.
Acer will offer models with an Intel Core i5 or Intel Core i7 processor, up to 8GB RAM and up to 1TB internal storage.
The Aspire R14 offers for its four modes: mobile, tablet, tent or bridge as needed. In addition, this device also supports a maximum of Intel Core i7 processor. It features a 14-inch screen with a resolution of 1366 x 76 pixels.
Acer will offer models with up to 12 GB RAM, 500GB or 1TB internal storage, and NVIDIA GeForce 820M graphics card.