In recent months we have found smartphones flagship with prices close to and even higher than one thousand euros. This is the case of the latest terminals from Apple and Samsung, and it is expected that the same will happen with the LG V30 that will arrive in the coming weeks. Therefore, it is good news that Huawei has decided to keep a contained price (699 euros) for its new flagship, Huawei Mate 10.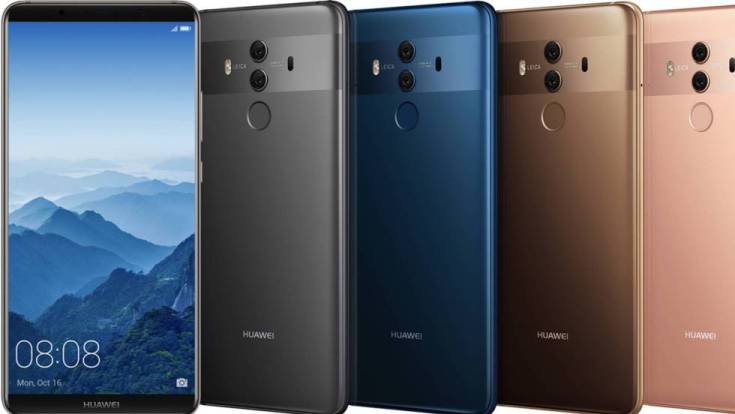 The sacrifices that have been made to achieve it are not many or determinant for the operation of the terminal: OLED technology, wireless charging or water resistance are the most outstanding absences. Moreover, it adds to almost all current trends, such as a screen without frames, fast loading compatibility and portrait effect in photographs.
Shape
The Huawei Mate 10 has an attractive design in which the screen takes all the prominence. And it extends almost to the edges, leaving the frames reduced to its minimum expression. As a general rule, the competition models with this philosophy have an elongated format of 18:9 (twice as high as wide), thanks to which the grip is facilitated or the feeling of immersion is encouraged during the reproduction of videos.
Huawei stands out from this fashion and maintains the traditional aspect ratio 16:9: the same with which most of the multimedia content available today has been recorded. In this way, viewing them prevents the mobile from having to adapt the images or the appearance of black bands on both sides. Not everything is positive: with 5.9 inch, the phone is a little wide and it is essential to use it with both hands. The sensation is enhanced by the glass finish of its back, which causes it to slip a lot when you grip it – and make it a real magnet for fingerprints.
And speaking of footprints. While most manufacturers have chosen to move the reader to the back, the Chinese leaves it on the front, under the screen. This has had to reduce its size, although that does not affect its operation (very fast and without errors) or its capabilities.
In fact, it is equipped with the features of a touch panel: touching it activates the backward function; if it is left pressed for a second it goes back to the main interface; and when you slide your finger from one side to another opens the menu of applications in the background. It takes a few days to get used to this method of control but, once achieved, is a very convenient alternative to on-screen icons.
Multimedia
As far as visualization quality is concerned, this smartphone mounts an LCD panel compatible with HDR10 and QHD resolution. The experience is at the height of the best, with realistic colors and an adequate brightness, although we would have liked to see the results with an OLED panel, one of the main trends of the moment.
On the other hand, we think it is appropriate to customize the resolution depending on the contents that are being viewed or the remaining battery; something that can be done manually but also automatically. This last option is the most appropriate solution.
However, it weakens in audio playback. The speakers boast of being stereo, but they are not placed symmetrically: one is placed on the screen and another one on the lower edge, next to the loading port. Hence, the sound is heard a little unbalanced. For specific uses it is not bad, but if we want to watch long videos, it is quite annoying.
The apps of 8
The smartphone Huawei brings Android 8.0 series, although hidden behind the layer of personalization own signature: EMUI, also in its version 8.0. Its operation is very fluid and includes some functions such as the possibility of connecting the device to a monitor to use it as if it were a computer.
In fact, doing so is as simple as connecting both devices through a USB-C to HDMI cable (not included). It is not even necessary to connect a keyboard and mouse via Bluetooth, because it is possible to use the phone as a large touch control panel. It is not a way designed for intensive or continuous use, but for sporadic situations it can become a highly recommended solution.
In addition, the performance is as positive as when using the smartphone as such: its octa-core Kirin 930 processor with 12-core GPU equipped in the chipset, along with its 4 GB of RAM, takes care of it.
On the other hand, the 4000 mAh with which the battery counts. During the days when we treated the device to go to the bed with a load for a few hours on the following day, even when its use was intensive. In addition, it is compatible with fast charging and comes with a charger adapted to it as standard: in 10 minutes it reaches 20% and in half an hour it exceeds 50%.
Intelligent
From the processor there is an aspect that stands out above all others: it has been equipped with a unit dedicated to neural processing unit (NPU) that allows to enjoy artificial intelligence. What does this mean? That the phone is learning what we do to adapt its operating mode, optimize system resources, allow more efficient battery consumption, offer real-time responses or recognize images.
For the moment, it is a feature that has not been fully developed and, therefore, we cannot say that it supposes a great advantage over other terminals that do not have this technology. Yes it has been implemented in some uses, such as the Translator app, with the ability to translate texts in real time just by focusing them with the camera.
But the great practical example of the use of AI is found in the camera. In this way, and with the automatic mode is activated, it is enough to focus on a person or an object so that the mobile phone decides for itself which are the adjustments with which the best capture is achieved. Specifically, it detects food, pets, people, night images, flowers…
It is a very useful function if we are not very cunning with manual configuration and we have only found small limitations in its use: a person should be at a close distance and looking at camera, for example, to activate the portrait mode.
Precisely this mode is one of the most attractive, because it already incorporates the option to blur the background to create bokeh effect. The results are quite good, although with some flaws in complex areas such as hair and a blur perhaps too exaggerated to make it look natural.
To achieve this, the terminal has two rear cameras, in whose development the Leica firm has once again collaborated. Specifically, it has a RGB sensor of 12 megapixels and another monochrome of 20 megapixels that share an optical image stabilization system and a very bright diaphragm f/1.6.
With its combination you get great definition and detail in the captures with good light, as well as amazing photographs of night scenes, in which the noise almost disappears. And what to say when we decided to take pictures in black and white!
One step
Huawei Mate 10 is a good smartphone that aims to compete with the best. Their weapons are an adequate performance, a screen without frames and a camera that shines during the night scenes. That it includes functions related to artificial intelligence is very good, although we must wait for them to develop a little more to assess whether they will really mean a before and after in mobile telephony.
And that its price is less than 300 euros to other models helps it stand out. All this does not mean that it has some shortcomings that mean that, unfortunately, we cannot place it at the level of the most laureates.