Intel has officially launched the update of the NUC mini-PC to its last platform of prosecution Skylake.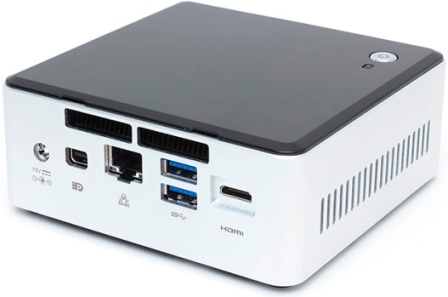 To stop the fall in sales of desktops and after verifying the success of solutions such as Raspberry Pi, the chip giant began in 2012 to market their own Mini-PC called Next Unit of Computing (NUC) in a form factor of 10 x 10 centimeters which according to Intel is as reduced as possible after include the logic necessary to support their processors and expansion modules.
Since then, Intel has renewed its NUC mini-PC in designs that fit in the palm of the hand, can move and settle anywhere in the home or office and provide the power and connectivity of a basic desktop computer.
The latest processors Skylake already had been announced but have not yet priced. As the above it will be offered in several versions depending on size and the processor. All served in an aluminum case with passive cooling and the size difference in height. The highest support with 2.5 inch storage units and lower to use SSDs in M.2 format.
Its connectivity is common with mini DisplayPort, Gigabit Ethernet, Wi-Fi 802.11 ac, Bluetooth 4.1, headphone jack and support for audio 7.1, SDXC multiformat card reader and four USB 3.0 port.
In terms of processors, Intel offers two: Core i3-6100U and Core i5-6260U although we do not discard versions with Core i7 later. Both have a 15 watt TDP and DDR4-2133 MHz memory support for up to 32 Gbytes. The first uses Intel HD 520 integrated graphics while the second upgrade to a Intel Iris 540.
Intel says the new NUC officially support Windows 8 and later operating systems and should also work with GNU/Linux Ubuntu, Linux Mint, Fedora and openSUSE.