In the absence of a few months for the virtual reality helmets of different brands start to land on a massive scale in our homes, there is still an issue that is not quite resolved to provide optimum gaming experience: control systems.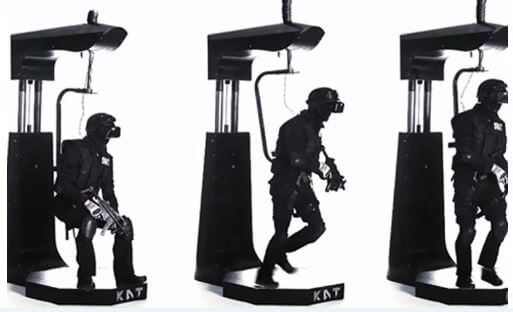 Although I am not clear if real users are willing to move around the room walking and running with a helmet that isolates us from reality or if prefer to play quietly sitting down on the couch, seeing devices like Kat Walk makes me want to transform some corner of the house in a room dedicated to virtual reality.
It is a unit of generous proportions (having a diameter of 101 cm. and a weight of 75 kilos) designed to hold under its main arm to a user up to 140 kilos. The bottom is an area of high friction that together with a special shoe that we wear, to simulate that we are walking or running in all directions without the risk of falling or tripping over elements of the room.
Different sensors installed on the Kat Walk detect the position and actions of the user and we even have the option of installing a special stand to play seated and enjoy driving simulators or space.
Price and Availability
Kat Walk is completing its funding on Kickstarter phase and hope to go on sale from April 2016 at a price of $599 for the main stand over a pair of shoes and $ 149 for the accessory that will allow us to play sitting down.