If of so much using the mobile and Tablet are that when you are near a flat-screen television makes you want to drag icons or change channels by touching its surface, then you will like Touchjet Wave, an accessory that does just that, provide a kind of touch interface to our televisions.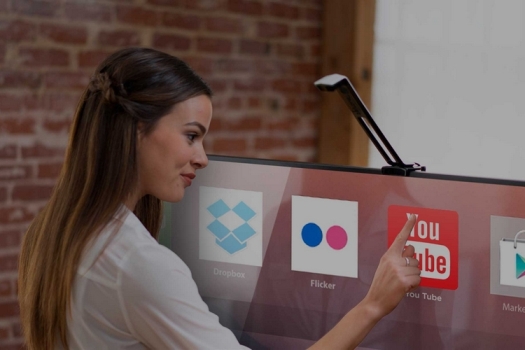 I say "kind" because in reality the screen is not touch, since no change is made ​​in it. What is used is an infrared system that detects the position and gestures of the user with your hands or the stylus included in the kit.
Touchjet Wave is very easy to install. Simply place on top of the TV (supports up to 60-inch models), plug it into the mains and a free HDMI port. Once this is done we can begin to run Android games and applications that will download via its WiFi connection.
Among its technical specifications have a ARM Cortex-A9 quad-core processor, 1GB DDR3 RAM, 8GB flash storage, two USB 2.0 ports and one Micro USB OTG and Bluetooth 4.0 connectivity.
Price and Availability
Touchjet Wave is starting a campaign financing on Indiegogo which hope to raise $100,000 to begin serving units from March 2016 to $99 if we have collaborated with the project (the final price will be approximately double).