Will be the electric bicycles the next big Christmas gift? After the drones and the fateful hoverboard, the world of technology watches the bikes as the next transport system that revolutionize with more sensors, gadgets and connection. Chinese company demonstrated its first bicycle LeEco Super Bike.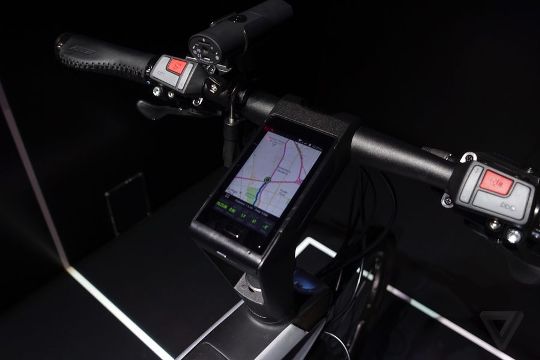 LeEco just entered through the front door in the US with the announcement of televisions, phones, 30-speed electric bike and even a future electric car. But this electrical bicycle has been the most interesting thing.
It includes a smartphone to which you can put a SIM card, but welded to bike handlebar. It has a 4-inch display and uses a customized version of Android to display the basic information needed by a cyclist: maps, route information, elevation, temperature, exercising time and calories burned. It also has a heart rate monitor on the handlebars.




It has its own version of social network with direct communication with other LeEco bikes. By pressing a button on the handlebar you can talk with these people to a maximum distance of 1.6 km (1 mile). No need external microphone, the mobile already includes one. In addition, the handlebar ends have side lights to indicate the turns that you are going to do.
Several buttons are included in the bike. One to take pictures or record videos with an action camera (which announced shortly), another to turn on the front light and a brake button for blocking the rear wheel. And if that were not enough, the bike emits a light line marking around the zone through which the cars should not pass and thus avoid accidents.




All this runs on a battery that helps pedaling and can be recharged with a microUSB cable. Alternatively, use the energy generated by the front wheel to recharge.
No price or release date, but in China there are three versions costing from 541 euro to 5,400 euro depending on the quality of materials.