Each year the manufacturers launch their new product ranges and there is always one that strikes us above the rest. In a matter of televisions it was Panasonic whom surprised us with its Panasonic CZ950, a curved OLED TV.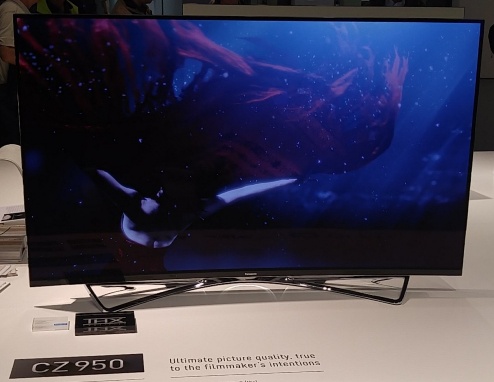 So far, when one thought in the best quality of image it was inevitable to not think of LG. And that manufacturer such as Samsung and its JS9500 had put a bar very high despite being a LED panel. But then, although both models should offer brutal image quality, the OLED technology is superior.
Therefore, all television with an OLED panel with an advantage compared to other competitors. And if in addition it offers a 4K resolution better than better. That is the case Panasonic CZ950, a TV that could know at IFA 2015 and already widely expected despite not being an economic product. The guys at FlatpanelsHD have had the opportunity to have a making contact more slowly and have interesting details.
Panasonic CZ950, high-end but with strange decisions
The first thing that stands out on the Panasonic CZ950 TV is something that everyone can see: is aesthetically beautiful. Its finish is elegant, the frames are exactly as they should be and thickness invites you to imagine how it would be in the living room, even hung on the wall.
However, after an initial stroll through its design, the important thing is what gives quality of image, sound and usability. Well, appreciate more and more the user experience. Especially thinking about how we're consuming content right now. We like to be able to jump the channel we are seeing the application of Youtube or access to Netflix to continue watching our favorite series.
The Panasonic CZ950 shares characteristics with the LG EG960
The Panasonic CZ950 shares many details with the LG EG960, not in vain is LG which provides the curved OLED panel. It is therefore logical that we find many similarities. Of course then it depends much on electronics of each brand and the way they process the image you get a performance that you like. In that sense we have some blind faith in Panasonic because it has been one of the few manufacturers that has always shown a color rendering very much to our taste, nothing all too vibrant, saturated, super bright…
Following the image quality, the new Panasonic TV as it could not be otherwise offers support for new color spaces that allow an image more real; with greater depth of color (full support for HDR will come later). Although currently there is much content that takes advantage of that improvement, less even than content to 4K resolution.
However, according to the article, seems to indicate that we have a big screen in image quality issues. But there is one detail that surprised: do not use Firefox OS as Smart TV platform. Failing turn to Smart Viera, the system that have been used until 2014.
What is a display with a Smart TV platform in 2014 and not the new high-end? Yes. It's strange, because actually it was not a great Smart TV platform. I know many will think that really no intelligent TV platform is good but I disagree. I think they are good solutions, some more successful than others, but so long as we value them and not have false expectations.
Smart Viera platform was not bad but did have many details that enhance Firefox OS corrects itself. It is therefore not surprising that Panasonic opts for Firefox OS and it may generate doubts among fans to the brand. If they do not opt for Firefox OS at the high end it is just because they are not convinced of its worth, right? I think that they are convinced but there must be a compelling reason for such a decision.
Still, although Smart Viera fails to convince that should not tarnish the quality of a product such as Panasonic CZ650. Of course, if we take into account that it will cost about 10,000 euro estimated it'd more pampering.
Price is that many can not access it but it will be interesting to see what will bring us to this future technology.