The Razer specialist solutions for gamers announced the commercialization of a new device for the manufacturer of joystick and other gaming accessories, a sound bar. Called Leviathan, it promises a sound environment conducive to video games but also music and movies.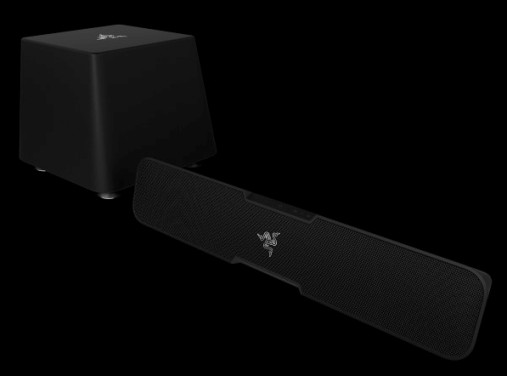 We know the sound part in video games is relatively large. So rather than do that devices such as joysticks, keyboards and mice for gamers, the American manufacturer Razer has decided to open a little ecosystem through marketing a sound bar associated with a subwoofer.
Leviathan is positioned as a high-end model despite a price of only €200. It delivers a "5.1 surround" which is in fact provided by 4 speakers and a subwoofer. There are two tweeters and two mediums. The Soundbar has a system of adjustable inclination according to the needs. IIt can perfectly accompany a TV or a computer monitor by placing front so that the subwoofer will be on the ground. It can also be attached to the wall.
The soundbar has 3 preset audio modes: gaming, music or film. It delivers a power of 30 Watts RMS. The subwoofer is said to be passive. It also makes 30 Watts.
Connectivity side, the Razer soundbar Leviathan offers stereo audio input, a digital optical input and a Bluetooth module. It can play music wirelessly from a smartphone or a touch pad. Furthermore, it is compatible NFC which enabling it to interface with a compatible terminal instantly.
The Razer Leviathan soundbar is available for pre-order delivery during November for about €200.