Newbie website owners look for inexpensive options in web hosting because they already have spent money on creating the website and now, they want to save as much as they can. Well, it's not the wrong perspective because if a businessman starts spending money easily, then he/she won't be able to survive in the business world for too long.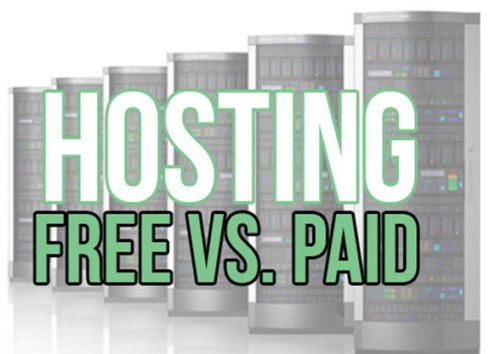 There are a plenty of things to invest in at the time when setting up a business online. Website designing, graphics designing, domain purchasing and hosting are the four main things that would eat up most of the investment. So, I'm pretty sure that these newbies are going to jump in the air when someone tell them that there are companies that provide free hosting.
This will open a door for savings along with getting the website live on the web, but it will also turn out to be the biggest mistake of their lives. Free hosting is not a fraud or a hoax, but it is a service that looks pretty awesome from a distance, but as we go closer, we start realizing that it has nothing to offer and on top of it, there are many annoying things that come along a free hosting.
So, the best and the only option for them is to go for paid hosting, irrespective of the fact that they charge money every month or on a yearly basis, but at least they will get the features with which they can make their website enticing. In this blog post, I have outlined some reasons to choose paid hosting above free hosting.
You can easily use your own domain
For instance, you have chosen a free blog hosting, then you will not be able to use your own domain, as there is no such option in it. This is a major drawback, as a domain is an important part in making a business successful and you don't have that option with a free hosting. On the other hand, you will be allowed to choose your own domain with the paid web hosting.
More Custom Options
With paid hosting, you will get more options to make your website better. A website developed these days is already equipped with all the options, but just in case, the designer misses out on any of the options that you found out later on, then you can easily add it in the paid web hosting. This facility is not available in free web hosting. There are certain options available in free web hosting, but those are not sufficient.
SEO (Search Engine Optimization) Friendly
A free web hosting doesn't have too many options to give to you in terms of search engine optimization. One reason is the sub domain that you get in the free webhosting and secondly, there is an absence of a number of useful tools. With paid webhosting, you will get the domain of your choice, plus a variety of tools to make your website SEO friendly. A website that is SEO friendly is the one that has better chances of reaching at the top of the search results of major search engines.
Paid Hosting is not that Expensive
I didn't find paid hosting to be that expensive. There is a price, but that's not too high when you compare it with the amount of features you are getting in a paid hosting. You can easily find the paid hosting that is cheap and offers a wide range of features.
No Annoying Ads on your Site
The biggest reason to hate free hosting is the ads that are displayed at the top, on the sides and bottom of the page. These ads are good enough for me to switch to paid hosting because there is no such issue involved with the paid hosting. You have the choice to add or remove the advertisements according to your choice.
Guarantee of Uptime
There has always been a problem related to the uptime hours with free hosting. Downtime in any business can result in loss of customers and money. But, there is no problem as such with the paid hosting. So, this is another point that goes in favor of the paid hosting.
Unlimited bandwidth
After a certain period of time, you won't be able to add more content to your website that is hosted under the free hosting, but with paid hosting, this problem is also eliminated. So, people who are looking to do long term online business must choose paid webhosting.
Paid means secure
Have you ever thought how a free webhosting is going to get money to keep its operations running? If no, then think about it because it is important for you to know that they have limited resources, so they are going to transfer the same to their users. On the other hand, paid webhosting means reliable and secure.
High capability
Paid hosting services are more capable in terms of features than the free hosting service. They will give you a dedicated cPanel to access and manage related to your website. This feature is not present in free hosting.
Technical support
With paid hosting, you get a 24×7 technical support in case you face any problem related to your website. This feature is not available in free webhosting.
But it is strongly recommended to read the web hosting reviews before choosing any paid hosting service for your website. There are several hosting review sites such as HostingReviewBox.com to make the right decision.