Apple introduced some features related to health during the presentation of iOS 8 at WWDC 2014, and even released a new SDK for HealthKit to help the developers to integrate its characteristics within their applications to use.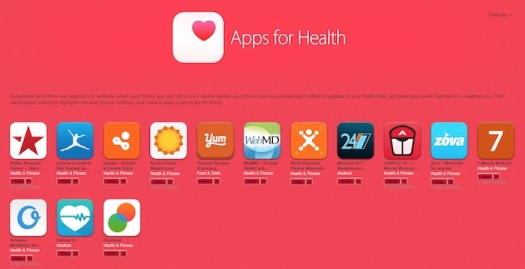 But when iOS 8 was released, it contained a bug that prevented run HealthKit. Fortunately, with the last thorough update, iOS 8.0.2 bug has been fixed. Indeed, now that the update is pushed to iDevices, and is apparently bug-free, compatible HealthKit applications that were previously set aside, can now be installed without problems. To help users to find, Apple has added a special promotional section in the iTunes App Store.
As a reminder, and as mentioned earlier, due to some compatibility last-minute issues HealthKit has been disabled in the initial deployment of iOS 8, ​​which means that compatible applications had to wait. Among the available applications, we will regain Fitport, MyFitnessPal, WebMD, which are three of the 14 applications that are far from the App Store. Some of the biggest applications are awaiting confirmation that all the bugs of HealthKit completely resolved, but you can expect to see surge in the App Store in the coming days.
HealthKit, if you just arrived from another planet, is the platform of health and fitness that Apple wants developers to adopt, so that all data is collected in one place. Google Fit aims to similar work, albeit in a slightly different way.
Healthcare applications are not the only new versions that have their own section on iTunes. There are also "showcase" dedicated to games optimized for iOS 8, and photo applications that Apple are trying to encourage all owners of iDevice. Indeed, the aim is that the latter benefit to the best of their new mobile operating system.
Tim Cook and his team will probably relieved that iOS 8 now has all the new features that have been promised, and ten days after its launch.