One of the points of greater expenditure of household water is bathroom, and especially the shower, which wasted both valuable liquid as a lot of energy trying to heat it up to optimum temperature.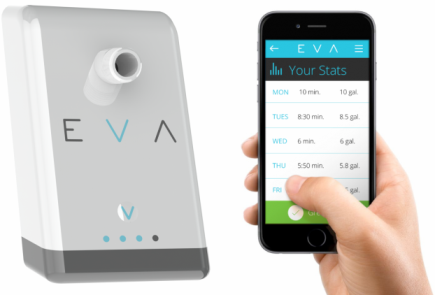 Eva wants to end this problem and it is offered to be our new quantifier system of showers, able to save water, energy and raise awareness about how much we spend. How do they do it?
Very simple. Eva smart shower has a small accessory that is installed at the exit of water from the shower and takes care of focus savings in three directions. First, it manages the output of tap water and cutting once has reached the right temperature, avoiding waste hot water.
Secondly, it has a distance sensor that cuts or reduces the flow of water when we move away from the shower, for example to apply SOAP, minimizing waste. Finally, it is able to calculate the length of the shower and the water consumed and shows us all the information in an application in our mobile thanks a Bluetooth connection.
Price and Availability
Eva is currently under Indiegogo funding and hopes to release in December 2015 for a price of about $109.