If you play any musical instrument, offer videos or simply want to record your voices with the best quality in general can not resort to the microphones of the ubiquitous mobile phones, since the fidelity offering is more than questionable.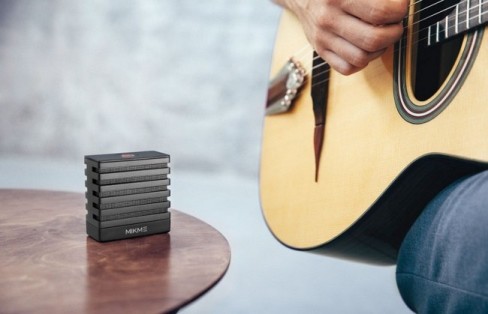 In these cases it is best to use some kind of external microphone, though often expensive and require additional electronics that further increases the price. Mikme want to solve this problem and become a versatile SUV microphone with interesting features.
This is a device with a size of 70x70x35 mm and 200 grams of weight which is capable of capturing sound in the band of 20 Hz-20 KHz with a signal to noise ratio of 75 dB. Inside we find a processing Cortex-M4 at 168 MHz and 1000 mAh battery that allow operating autonomously for up to 7 hours and always carrying it with us.
You can operate connected through a USB 2.0 port (used for charging), via a Bluetooth link and controlled from a mobile application or, and here comes one of its strengths, it is capable of recording the solo to an internal memory.
In particular, you can capture audio with "studio quality" at 24 bits and 96 KHz in MP4 and WAV formats in its 8GB digital memory, which later we will pass to a computer or phone or listen directly through a 3.5 mm jack connector.
Price and Availability
For now its creators are trying to end the fundraising on Kickstarter, with prospects of it on the market from May 2015. What is the price? Well for those who support the project will be $179 and those who buy later will have to pay additional $120.