The future Apple iPhone 6 will be announced at the press conference that the Cupertino Company has scheduled to hold next Tuesday, September 9. While we have seen hundreds of rumors for months, it is speculated that the future flagship in the crunched apple is presented in two versions, one with a 4.7-inch screen and one with a 5.5 inch screen. Although some disagree, today a new leak gives us a little more information to put our teeth through photos of the new iPhone.
But while we expect to see the new iPhone 6 to 4.7 inches at the Apple keynote next week, it is still not certain that the model is 5.5 inches also unveiled during the same event. Indeed, as has been mentioned several times by multiple sources, it could be launched later in the year.
Anyway, the last photos of the iPhone 6, which you can see below, show the design of the new 4.7 inches iPhone 6. The conclusion: the design is similar to previous leaks. The images, show champagne and silver version of smartphone version and also provide a look at the back of the device where you will find the famous white stripes at the top and bottom of the unit.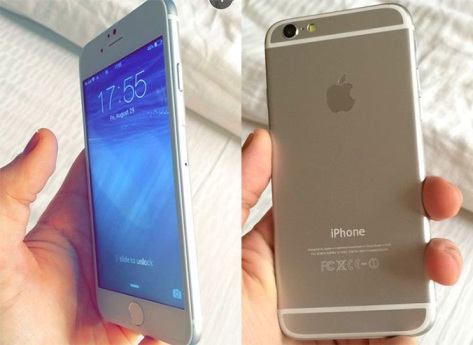 On the front, we see that the front camera has been moved to the right of the upper portion relative to its predecessor, iPhone 5S. Regarding the Touch ID button, it remains the same size as that fed on the 5S, but the outer ring is much thinner this time. As for its design, while the iPhone 6 is rumored to be thinner than previous models, it is not without consequence. A significant change is that the photo sensor embedded in the hull exceeds slightly behind thereof. This leaves imply that if you place the iPhone 6 on the back, the camera sensor will then touch the surface where it is placed. Regarding the design, the aluminum case is still beautiful, and seems very upscale.
The rest of the features, it is mentioned that the iPhone 6 4.7-inch would happen with a sapphire glass screen, and although we're not sure it will be the resolution on the device, rumors speculated that the screen would offer a resolution of 1704 x 960 pixels.
The smartphone is expected to embark under the hood of the new A8 processor from Apple, which will also be a 64-bit mobile processor, which is spread to be pulsated at 2 GHz. The device could also come with 2GB RAM.
The new iPhone 6 will come naturally with iOS 8, and will carry a new fast and accurate fingerprint sensor and new cameras at the front and back of the smartphone.