Small projectors that allow you to project content from a laptop, smartphone, or other device can be useful if you do not have space for a TV. But, most of the small projectors I've seen lately have relatively dark bulbs, and relatively low screen resolutions.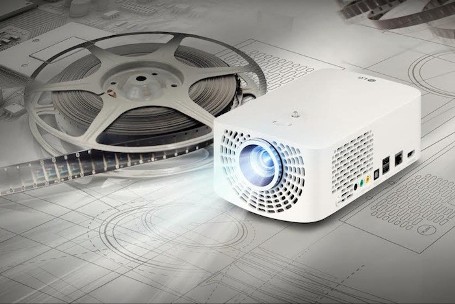 And then there are the new LG Minibeam projector.
This is the Minibeam Pro (PF1500G model) which is the perfect portable solution for home theater, and the smallest Minibeam TV (Model PW800) which is a mobile TV solution.
As you can imagine, the LG Minibeam projector is remarkably lightweight and offer greater portability than traditional projectors. The two new models easily fit in a backpack, and take only a few seconds to set up.
The LG Minibeam Pro PF1500 is a projector with full HD resolution, or 1920 x 1080 pixels, with an output of 1400 lumens and a contrast ratio of 150,000: 1. It is relatively compact, measuring 132 x 220 x 84 mm and weighing about 1.5 kg. The life of the LED lighting system is estimated at 30 000 hours, or use the eight hours Minibeam projector use daily for more than ten years without having to replace the three bulbs. The image size is up to 120 inches for a setback of 3.69 meters.
Although compact, the Minibeam Pro can replicate almost cinematic experience. With four Keystone buttons in the corners, viewers can easily eliminate distortion, even when the projector is not in perfect alignment with the screen. It also has an optical zoom to adjust the image size without sacrificing sharpness.
Note that its Bluetooth connectivity allows it to connect to the bars, portable speakers and wireless headphones for excellent audio experience, regardless of the environment.