As might be expected, at an event in San Francisco, Microsoft announced its upcoming operating system, Windows 10. While the Redmond company has taken everyone of course by announcing Windows 10 and no Windows 9. Yup, all items referenced with Windows 9 are already obsolete … So far known as the Threshold code, the successor to Windows 8 will officially be named Windows 10.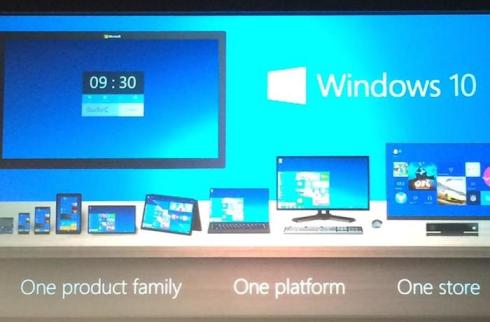 Terry Myerson, head of Microsoft unveiled the name and mentioned it after Windows is used by approximately 1.5 billion people on earth. "It is now time for a new Windows", said Myerson at the event. "It would not be fair to call it Windows 9".
Apart from this code name that surprised the entire scene, Microsoft also said that its new operating system will be able to run on all devices: "One product family. One platform. One store".
The company has continued to provide details on its new OS, stating that it would provide a user experience that is fitted between the different screen sizes. In other words, if you're on a small device, you will have a suitable user interface, and different from what you can find on a desktop.
Besides the fact that the new operating system will offer a solution for every experience device, it will carry a single application store, and updates will be pushed to all devices. Windows 10 "will deliver a good experience on the right device at the right time", said Myerson.
As the company has already mentioned in the Build 2014, Windows 10 will be equipped with a Start menu. The Redmond Company has shed light on the design of it (of course this may change over the month). The version presented at the conference is not completely new. Indeed, screenshots and videos have been leakees for weeks, showing the new Start menu, multiple virtual desktops, the notification center, a flatter user interface and even the integration of Cortana.
It is important to note that yesterday event is the first in a long series. While it focuses on business and power users, Microsoft will naturally stick to others, including other consumers.
The next version of Windows is expected to arrive next year.