Microsoft has introduced a new tool of the Office family. This is Sway, a mobile and desktop app that allows the creation of web pages in a simple, focused for people who want to express an idea but do not have the creative or design resources.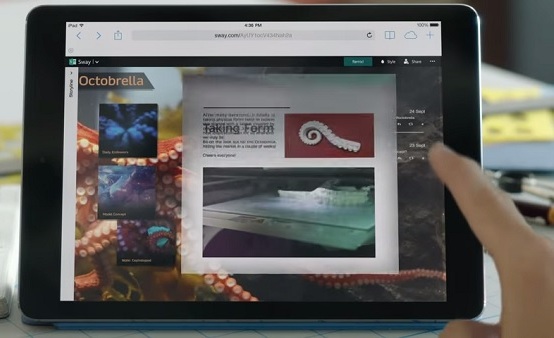 "When your ideas are born, you want to explore, visualize and share them easily, no matter what happened and the device whatsoever. Want to understand your ideas. Sway helps you achieve that. It's a new way to create web pages based on how pretty and interactive from your phone or browser', written in the official blog of Microsoft.
From Sway team suggest that this tool is targeted to all users, but especially for people do not have to make an effort to think about design or develop web authoring techniques.
The applicant should only be selecting templates, write the text and choose pictures and videos to be arming the page. Microsoft makes use with this service of the kindness of Azure, their cloud systems proposed layers and makes 'render' in the moment.
Although the end result is a web page, it is actually a complex new format that is stored on the cloud servers of Microsoft.
The company has specified to The Verge expected to launch applications for Android and iOS, and that plan is that the creation is organic and natively. Sway has integration with other services such as Facebook, Youtube or Twitter, which can be used for both creating content how to share the final product.
Sway can be viewed as an intelligent evolution of PowerPoint. It can be used by children who want to expose a class project as an entrepreneur who wants to show their product in its making.
Currently the application is in its infancy and those interested can register through the official website to enter a waiting list.