Oppo has tease its future Android smartphone in recent weeks, Oppo N3, it seems that the Chinese company is working on another device, following the current trend … Oppo VR. While there has been the mode of the smartwatches, a still emerging market which becomes more and more mature, today the field of virtual reality is ready to welcome new manufacturers. So today we spoke to Archos, whose helmet is scheduled for November at a price of 30 euros.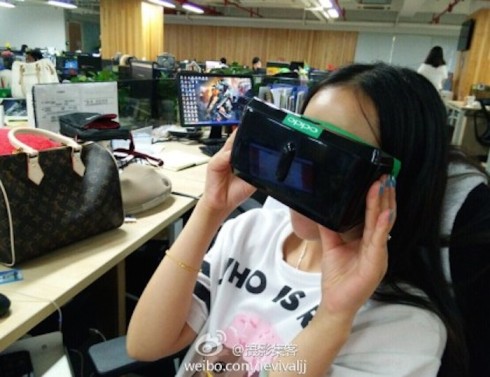 Oppo posted the above photo on its official account, and as you can see, it seems that the company is inspired by the fashion of the moment: drag a smartphone in a helmet, and market it as a real subject of virtual reality. Indeed, this new image featuring an employee in Oppo what appears to be the headquarters of the company, bringing a virtual reality helmet that bears the "Oppo" logo.
Although the company did not reveal any information about the new Oppo VR helmet, we can assume it will work with any Oppo Android smartphone, and this in a manner similar to that of Note 4 Galaxy that can be mated with the Gear VR. If the company will hold a press conference on October 29, where it will unveil its new smartphone Oppo N3, we would not be surprised if it reveals more details on this new virtual reality device.
As previously mentioned, many companies are betting on virtual reality. Needless to say, the mobile segment is becoming more than a place for smartphones and tablets. The market for mobile devices is gaining ground, but the concept of virtual reality seems to have changed in recent months. In any case, the Chinese manufacturer is active on the market!