The laboratory for advanced research C-Lab of Samsung, presented the wearable EDSAP (Early Detection Sensor & Algorithm Package) to detect cerebral infarction and other diseases.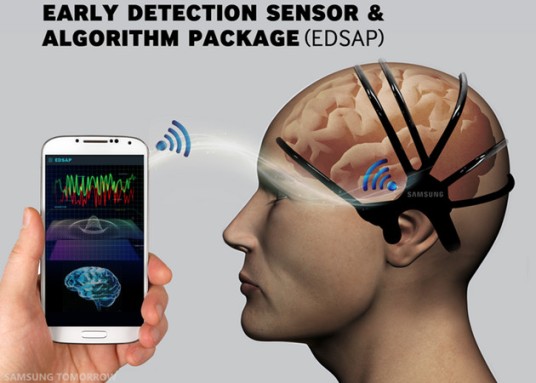 The segment of electronic devices, wearables, has found a wide field of application in the care of the health and physical activity. There is no clock or smart bracelet that boasts does not have some kind of sensor. ARM has designs usable for any connected device and Intel Curie presented at CES as complete platform for connected devices and its own open-source operating system, shows the importance that the sector will take the next few semesters.
Samsung aims to go a little further with wearable for detecting strokes. Placed in the head in a kind of spider, monitors brain waves and sends the information to a smartphone or tablet. A dedicated application receives and analyses data alerting the user of any anomaly.
According to researchers at Samsung, the wearable allows to anticipate a possible stroke, cerebrovascular accident or cerebral infarctions are the third leading cause of death in the Western world and the leading cause of permanent disability among adults.
EDSAP register can measure other parameters, sleep patterns, stress level and heart rate. Samsung intends to use these technologies through new wearables to prevent other diseases.
In a few decades, we implanted tiny chips that monitored all our activity. It will be permanently connected to our mobile and more importantly, a medical diagnostic center in the cloud where will be recorded and analyzed the data to prevent all kinds of disease. Forget privacy, it is the future.