Intel has begun marketing the second generation of Intel Compute Stick, the reference in pocket computers that connected to an HDMI port make televisions or monitors in a functional computer, and that comes with interesting improvements.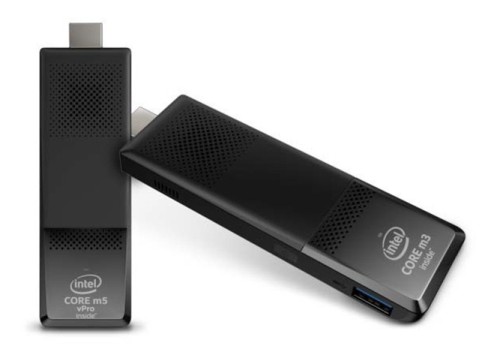 The new Intel Compute Stick changes the design from the original version to facilitate cooling and welcome the new components. A little bigger than a USB flash drive, is slightly longer and quite narrow. Its size allows carrying it anywhere in a pocket.
Its base hardware has been upgraded to Intel microprocessors manufactured in processes of 14 nm. It will be marketed in at least three versions, one with the new Atom Cherry Trail and two with Skylake Core, in M3 and M5 vPro models.
The base model of Intel Compute Stick which includes the Atom x5, with 2 Gbytes of RAM and 32 GB storage. Skylake models increase the memory to 4 Gbytes RAM and storage to 64 Gbytes.
All are equipped with SDXC card reader can accommodate up to 128 Gbytes and improvements in ports and connectivity. Now there are two ports full-sized USB 3.0 and USB 2.0 and an HDMI connector in 1.4 B version.
Along with the design and the processor, other innovations come from a dual band Wi-Fi ac module and Bluetooth 4.2, to greatly improve wireless performance on Intel Compute Stick of the original model.
The basic version with Atom x5-Z8300 microprocessor and Windows 10 32-bit pre-installed, is now available at retailers like Amazon, with selling price at $150. It is not known if Intel will also provide support to Ubuntu Linux as in the original model.
It is basically the same thing that you could do with a mini-PC or a notebook entry of similar hardware. It tested the direct media playback, streaming video in a shared network or navigation website, with good results. Also light plays up to 1280 x 720 pixels resolution.
Its computing performance is slightly higher than the original model, while the Wi-Fi ac dual band itself is a fundamental leap. And all of this while maintaining a very small consumption. As for the 2 GB RAM limit multitasking and 32 GB of storage space is not too much considering the installation of Windows 10 in practice leaves 19 GB free.
The storage section can be expanded with micro SD cards or external drives connected to USB ports. As for memory, it is sufficient for basic tasks, although need more can opt for the Skylake versions that offer the greatest potential but with a higher price that starts at $399.
It is neither for everything nor for all but the concept is fantastic: the whole PC that you can take in a pocket to any place.