The world of photography has undergone a revolution in recent years. All this with the arrival of so-called GoPro, a small size camera but a great utility – because of its undeniable comfort – for adventurous athletes and take a souvenir of that unforgettable trip.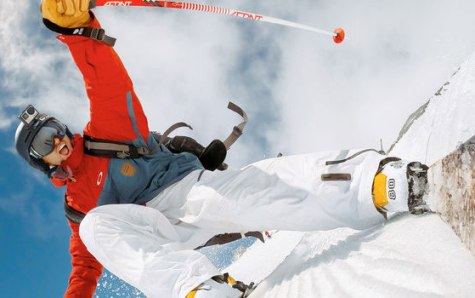 Things are changing over time. There are few aspects that are left out of technological developments and the world of photography has also undergone a significant progress in recent decades. Gone are those moments that had to pull reel and take to reveal the photos from our last trip. Even though it still remains a constant purchasing a Canon, Nikon, ultimately one SLR digital camera, gradually much of the clientele is focusing on acquiring the main protagonists of so far this year: the so-called GoPro.
But … What is the GoPro? This is one of the latest generation cameras, specially dedicated to those who practice sports, very favorable for those who are at risk, outdoors. The industry experts consider it as one of the most advanced of the market due to its innumerable advantages over other types of video cameras that are right now in the competition.
Among other things, GoPro offers great benefits over its competitors. To increase the advantage to these, already wide, the company founded by Nick Woodman in 2002 has launched its latest project: Go Pro Hero3 camcorder. A model that includes a harness and a spear extendable to improve user safety and a tripod and several shells to protect the most important: the device that records images.
The evolution of the latter model has been important since has included many new features compared to previous GoPro offered. The most prominent are the Auto Low Light inclusion, which increases angle perspective, improved battery – with a useful life that is increases by 30% – and the quality of image-thanks to SuperView – and finally, an integrated WI-FI system that is up to four times faster. All this together with very light weight which makes it easy to carry in any getaway or trip – makes it a benchmark for many current adventurers.
With the model GoPro Hero4 – a camera that will offer a cinema image quality allowing improving the effects to slow motion and a substantial improvement in its touchscreen and its sensitive finish. And it is that with this product in your Pocket you can make stunning photographs. A real blast!