After Sony sells its notebook division, VAIO, the brand is launching devices, even announcing a diversification by launching smartphones. Now VAIO has presented two convertible high performance laptops with the new VAIO Z and its variant VAIO Z Canvas.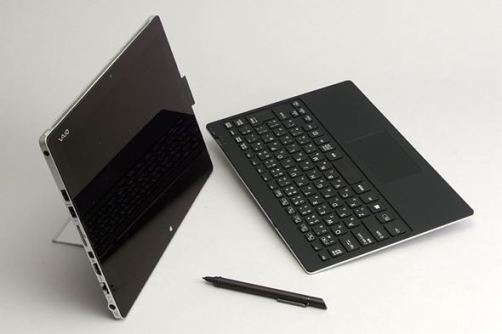 The VAIO Z is a laptop with a 13.3-inch touch screen that can be booked in Japan from today, and incorporates second-generation high-speed SSD and fifth generation Core i7 processor, mounted within a casing that mixes aluminum and carbon, measuring only 16.8mm thick and weighing 1.34kg. The native resolution of this laptop is 2560 × 1440 and can support up to 16GB RAM.
The battery is one of the strengths of the VAIO Z, as the Japanese company has promised that its autonomy would be around 15 hours. It also features 2 USB 3.0 ports and the other two cameras front of only one megapixel and a rear 8 megapixel, both with Exmor R technology, is that we must not forget that we are talking about a convertible devices.
The VAIO Z Canvas is a variation of the previous one and it is expected to go to market in May, with a little small display, of 12.1 inch, but with a superior native resolution of 2,560 × 1,704 pixels. And its main feature with the VAIO Z is that the keyboard and the screen, which can be done also in tablet, will be separated.
As unique features compared to the "standard" model includes active pointer that supports 256 levels of pressure, can be included up to a 1 TB of storage and according to the manufacturer, covers up to 95% of the Adobe RGB color gamut.
However VAIO meet again with its great Achilles heel, the price. It is not known what will be the price of the VAIO Z Canvas, but on the VAIO Z, which is about $1,600, resulting not affordable for all budgets.
As is normal in the vast majority of computers that come on the market, this reissue of the VAIO Z series incorporate Windows, particularly Windows 8.1.