Choosing the ideal mobile computing device is not simple to the overwhelming supply coming from dozens of models in formats like Ultrabook, laptop or tablet. For help in choosing we prepared an article which exposes the strengths of each of these formats, taking into account the different needs and budgets of users and professionals.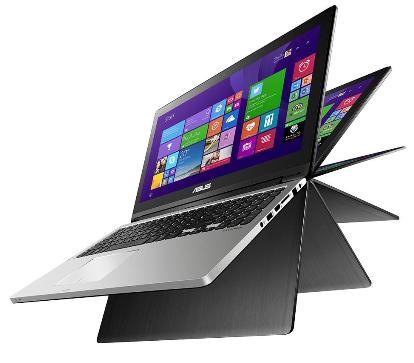 To them, has joined the launch of the new generation of versatile convertible (2 in 1, hybrid or convertible), trying added the best of all mobile computing segments, opening a new offer and a new question.
A new category of equipment which allows its use as portable and electronic tablet and that may be the device of choice for a good portion of users in mobility. We have selected some of its advantages but we recommend reviewing the full articles:
Versatility: Use as a laptop when you need to produce documents, reports or presentations through a full keyboard to do more in less time and easily convertible into tablet to use your multitouch screen for reviews, navigation, presentations and collaborations.
Connectivity: Protocols including as the Intel Pro Wireless Display empowers content sharing under wireless transmissions with resolutions up to 4K with 5.1 surround sound to a compatible display wirelessly. Also all kinds of ports like USB 3.0, Display Port outputs and support for 3G/4G broadband networks.
Performance: This 2 in 1 for business users have the processing power and graphics processors offer Core M processor of new generation Broadwell multitasking and support for running x86 applications on a business PC and new offered by Windows 8.1. A minimal boot time and new sleep modes allow not miss a minute of your precious time.
Touch Technology: Digitizer and stylus for taking notes, editing or interaction, is another highlight components of these 2 in 1 for business users.
Autonomy: In addition to the large range of tablet in the office, on the move or at home, accompanying the bases often include extra batteries for a full day of work.
Mobility: Maximum convenience of moving with one device and not two or three to complete the necessary mobility solutions.
Security: In addition to the Intel vPro technology with safely and hardware management, including security software on the same operating system and third parties, as well as TPM (Trusted Platform Module) chips and sensors of fingerprints for authentication and access to the computer.
Price and maintenance: If the initial price of buying this kind of 2 in 1 and purchase a laptop and a tablet is similar, cost is subsequently triggered two plans of support, applications need for both, the double cost of the IT departments to manage and deploy two devices, or the cost of security and maintenance.