Vensmile W10 is a mini-PC similar in concept to Intel Compute Stick, turning a display screen (TV or monitor) on a computer when connected to the HDMI port.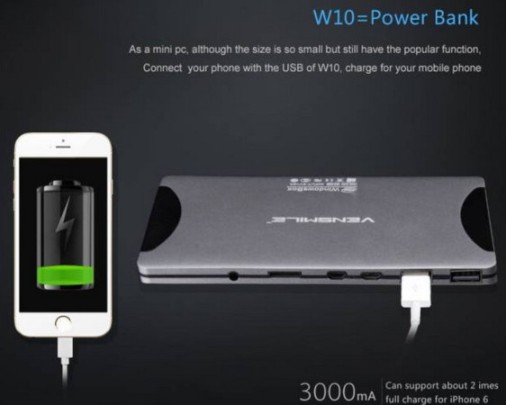 Pendrive format versus Intel device, Vensmile W10 looks similar to a phablet (15 x 8 x 1 cm) in size with a 3000 mAh battery incorporated which allows you to recharge small devices such as smart phones. Its processor is a Atom Bay Trail Z3735F model with quad-core at 1.83 GHz. It has 2 GB of RAM and 64 GB of internal storage double the Intel stick.
It Include Wi-Fi and Bluetooth 4.0, two full-size USB 2.0 ports, a micro USB for power, MicroSD card support, audio jack for headphones or speakers and a mini HDMI to connect to the screen.
It is governed by Windows 8.1 with Bing and its price ranges from 107-134 euro. Very interesting these mini-PC that become functional computer screens and can be carried anywhere because of its compact size.