The X-Project of XSories is a very compact projector, using LED technology. It is able to project HD images up to 305 cm. Very reasonable size; it is equipped with a battery to completely dispense with cable.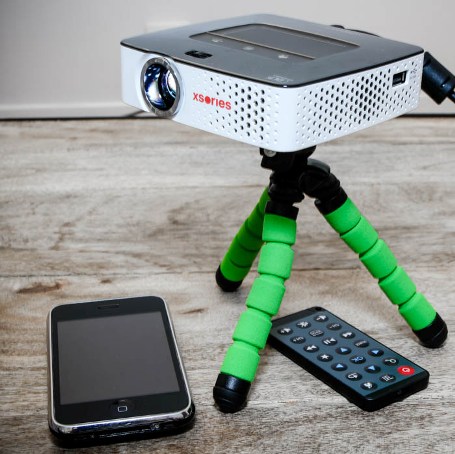 Why it is important?
We take more and more photos and videos every day, it's a fact. It is much nicer to share through a video projector on the screen of a laptop computer. Very easy to use, this nomadic projector will claim a white flat surface so that it can project our videos or photos.
Design
What strikes first when we discovered the X-Project is its tiny size: it measures only 15 cm wide and 15 cm long and 3 cm in height, or about 1.5 times an Apple TV. The projector is in black plastic shiny on top and white lace on the sides. Its compact size and light weight (only 288g!) will allow us to carry it everywhere with us.
The projector runs Android 2.3.1 and features a very simple graphical interface. We can navigate through the menus with the remote control or the touchpad on the top of the unit.
It offers the opportunity to connect a computer or other video source via its mini-HDMI connector for both HDMI and VGA (only the HDMI cable is included). It is also possible to connect SD or MMC as well as a USB disk or card into the USB jack on the left side of the unit. The housing includes a speaker, allowing us to view media and enjoy the sound. We can also mount the case on a picture with foot screw integrated in the device.
Android requires, the projector connects to WiFi networks, so we could use the pre-installed applications: YouTube, web browser, email, Yozo Office. We will also install new. It will also be able to find the DLNA server on our network and to directly play the stored media content. Conversely, the projector can create its own WiFi network to distribute its media content. We can also connect a TV Tuner compatible Android to watch TV directly with the projector. It will not be against by not specifying a list of compatible tuners, since we have not exploited this solution.
To summarize, the unit turns on fairly quickly, becoming operational in about twenty seconds. Touch Pad navigation is a breeze, the remote control is convenient and enjoyable when one is installed on the sofa!
Its tiny size, light weight and integrated battery make it really nomadic. It slips into a laptop bag and does not take much more space than a mouse. The X-Project is also capable of displaying everything can be produced as media, in the manner of a conventional projector with its connectivity options which thanks to its ability to play almost all audio and video formats: avi , mov, mp4, mkv, MP3, WAV, OGG, FLAC, AAC, etc.
In addition, the display is quite correct, although it will be necessary to have a relatively small on-the-light projection (the nomadic side imposes certain restrictions).
The built-in speaker is a bit weak and the on/off button not necessarily practical: we need a little hand and let the knob to a little more than 3 seconds before starting or stopping the machine. The connection could have been loading a Micro USB port. Thus, it was possible to recharge on a computer or a car charger.
X-Project is not a gadget, it's a real projector where its price not negligible but still reasonable account with full functionality and device (approximately €400).